HOW MANY SESSIONS FOR LASER HAIR REMOVAL?
Nothing is more enjoyable throughout the spring and summer than spending time outside and feeling the sun's warmth on your skin. However, if you live with undesired hair, exposing your skin might cause difficult emotions. If you've considered laser hair removal, now is the ideal moment to eliminate unsightly hair and feel more comfortable in your skin. Laser skin clinic in Toronto is available to meet all of your hair removal requirements.
How many sessions for laser hair removal? Different biological variables might affect the number of sessions required to eliminate unwanted hair, as each individual's body is unique. Typically, two to six laser sessions are required for permanent hair removal.
You should anticipate a 10% to 25% loss in hair following your first treatment. As you continue your treatments, you will notice that your hair continues to fall out and come back more slowly.
How Frequently Can a Hair Removal Treatment Be Performed?
Is laser hair removal permanent? If not, how much time must pass between laser treatments? Your doctor will tell you how long you should wait between treatments based on several variables. Clients can typically get hair removal every four to eight weeks.
A consideration for future therapies is the fact that hair does not grow at the same pace in all regions of the body. If you are undergoing laser treatments on an area where hair proliferates, such as your upper lip, you may need them every four weeks. If you receive treatments on the part of your body where hair grows slowly, such as the back, you may only need them every 10 to 15 weeks.
Is permanent hair removal possible?
After completing a series of laser hair removal treatments, you will be hair-free for months or even years. If hair grows back in the treated area, it will be significantly thinner and less noticeable than before treatment. You may require periodic maintenance treatments to be permanently hairless.
Can laser removal assist with additional issues?
One of the many advantages of laser hair removal is that it helps prevent ingrown hairs. This is a miracle for individuals who frequently experience ingrown hairs after shaving their legs or bikini line. Switching to laser hair removal will not only remove hair more effectively and permanently but also leave your skin clearer, smoother, and less irritated.
Exists any downtime?
There is no recovery time associated with this treatment. You should be able to continue your day generally without further discomfort.
How Long Does It Take for Hair Loss to Occur?
The hair in the treated area does not shed immediately but over a period of days to weeks. Hair growth occurs in cycles, and repeated treatments are most effective when they target follicles during the active growth phase.
As you get treatments, your hair will continue to thin and fall out until it is completely gone. You may require laser maintenance sessions to permanently remove hair.
Which Body Parts Are Eligible for This Treatment?
The most frequent areas for laser hair removal therapy are the legs, armpits, upper lip, chin, and bikini line. Consequently, this treatment can be performed virtually anywhere on the body, excluding the eyelids and surrounding areas.
In the laser skin clinic, ALL skin types are treated with Cynosure Elite iQ, designed for laser hair removal. This technology also treats grey and light hair, but it may require additional sessions. Depending on the size of the targeted area, each laser hair removal session lasts between 15 and 60 minutes.
Included in the category of small regions are the belly button, areola, chin, cheeks, feet and toes, ears, hands and fingers, forehead, sideburns, underarms, and upper lip.
Medium areas include the lower back, the Brazilian, the neck, the forearms, the shoulders, and the upper arms.
Large areas include the upper back, lower back, upper legs, lower legs, and the entire abdominal region.
The whole body contains full arms, legs, underarms, Brazilian, and a full face.
Elite iQ Laser Hair Removal
We use the latest Cynosure Elite iQ laser hair removal at our Toronto laser hair removal clinic.  Cynosure's Elite iQ is the Gold Standard for hair removal with the patented Skintel technology, the only FDA-cleared melanin reader, it determines the average melanin density of skin, removing any guesswork out of determining the right settings for each client.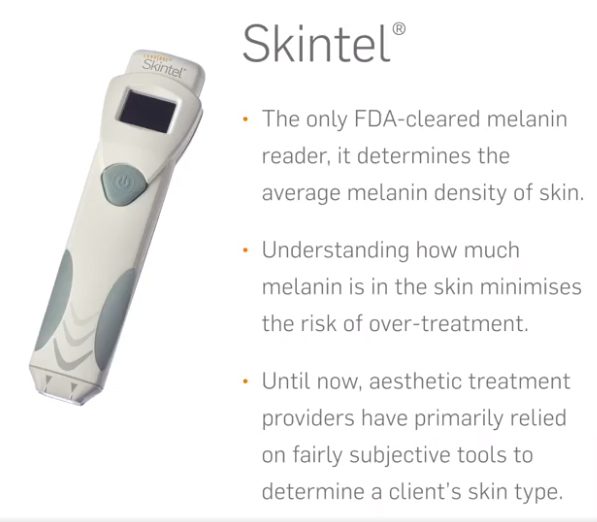 Latest Hair Removal Cost Toronto
For the latest cost for laser hair removal Toronto, CLICK HERE
Laser Hair Removal Toronto - Laser Hair Removal Near Me