Hair removal laser near me
Are you looking for hair removal near me? Look no further. Laser Skin Clinic is one of the leading laser hair removal facilities in Toronto, Ontario. We provide the most cutting-edge laser hair removal technology, allowing us to treat you with the optimal process for your skin tone, hair texture, and skin sensitivity. Laser hair removal provides a permanent decrease of unwanted hair, resulting in long-lasting, attractive, smooth skin. The Laser skin clinic is where you can find the difference in laser hair removal in Toronto.
Benefits of laser hair removal at laser wellness
At Laser skin clinic, we customize your laser hair removal depending on several variables, including:
Ethnicity
Skin sensitivity
Hair diameter
Tan level
Hair Color
Skin color
We have chosen the Elite iQ laser system for our laser hair removal treatments at The Laser skin clinic.
50% OFF Elite iQ™ Laser Hair Removal. 25% OFF Potenza RF Microneedling for Skin Tightening, Acne Scars, and Stretch Marks. 25% OFF PicoSure® Laser Skin Treatments for Pigmented and Vascular Lesions, Skin Rejuvenation. Hair Loss Treatments, Scalp Micropigmentation Toronto & Richmond Hill Clinics.
How much does the laser hair removal in Toronto clinic cost?
IPL hair removal is often less expensive than laser hair removal since the results are less effective and require a greater number of sessions in the long term. Pricing is determined by the treated area and the number of sessions. We do provide special rates for packages. You can check pricing at their website https://laserskin.ca/product-category/laser-hair-removal/
The Gold Standard for Laser Hair Removal Near Me
Our Cynosure Elite iQ laser employs high laser light energy to target hair follicles and produces thermal damage for permanent hair reduction over the course of several hair removal sessions.
During the laser hair removal procedure, two well-established wavelengths operate in tandem to kill the hair follicles. The laser targets the color of the hair follicles and destroys the hair shaft without causing damage to the surrounding skin, regardless of the patient's skin tone. Quick treatment
Pain free
Safe to treat all skin types
Permanent results
No downtime
Cynosure is one of the world's premier laser firms. Their Elite iQ laser incorporates a 755nm Alexandrite laser and a 1065nm ND: YAG laser. Dual lasers offer an extensive array of laser hair removal treatment choices. The Elite iQ is the newest addition to their portfolio of high-quality lasers and the number one laser hair removal brand recommended by dermatologists.
The Elite IQ is based on more than two decades of clinically proven outcomes across all skin types and skin tones. With the Elite iQ, the best laser machine is now even better. Increased speed, power, bigger spot sizes, and shorter pulse durations provide patients with a superior laser hair removal experience.
Elite iQ Laser Hair Removal
We use the latest Cynosure Elite iQ laser hair removal at our Toronto laser hair removal clinic. Cynosure's Elite iQ is the Gold Standard for hair removal with the patented Skintel technology, the only FDA-cleared melanin reader, it determines the average melanin density of skin, removing any guesswork out of determining the right settings for each client.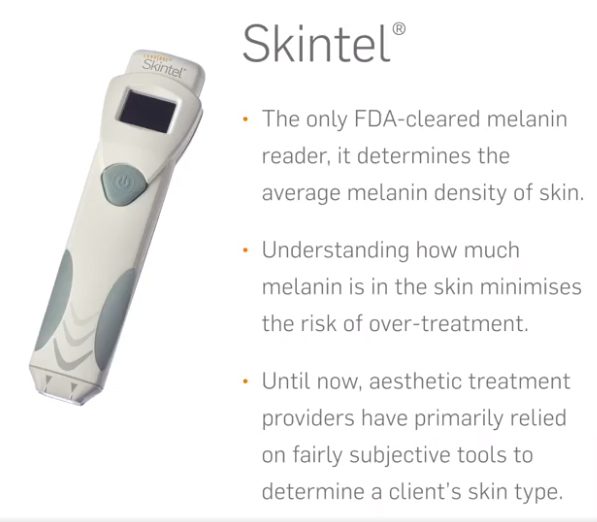 Best Laser Hair Removal Toronto Cost
For the latest cost for laser hair removal Toronto, CLICK HERE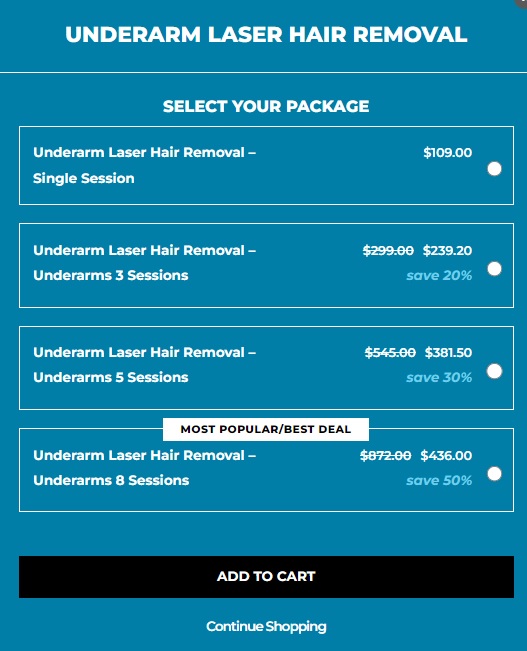 Laser Hair Removal Near Me